Happy Thanksgiving, from our farm to yours!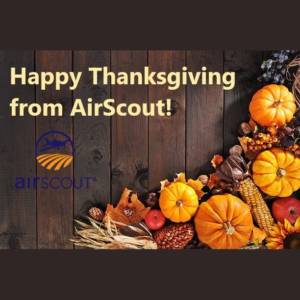 With two seasons never quite the same, we must always be looking for new ways to turn AirScout aerial imagery into actionable items on the farm. The approaching winter season may be a good time to dive into your images from 2019 online (or through the AirScout mobile app).  It always pays to carefully review all the changes that occurred in your fields over time during the growing season, and see where things might have been improved. By re-familiarizing ourselves with what occurred during the season, we can also make plans for our strategy in 2020.
Don't forget that we're here to help. If you need assistance getting fields renewed for 2020, or downloading your past imagery to your personal computers, please contact us.   If you're interested in learning about how our custom AirScout Edition Hagie machine could help in 2020, just let us know!
We enjoyed revisiting this article on PrecisionAg.com on how insights from aerial imagery help inform better decisions based on real data — helping "show you the money" when it comes to strategic farm management. Did you leverage any of the 7 mentioned benefits this season?
Feel free to reach out and let us know your story!
Thanks again, and happy Thanksgiving!
– The AirScout Team