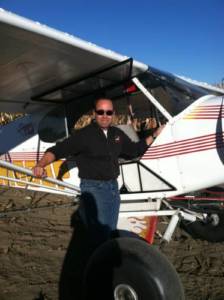 AirScout is the brainchild of 5th generation Indiana farmer, pilot, and inventor, Brian Sutton. He understands the benefit of field scouting and the devestation crop disease can cause for a farm family and their operation's profitability. Sutton noticed that when a corn crop is most vulnerable to problems, it's also the toughest to ground scout. The intervention window is very small, and there's no chance to replant. His work over a decade has resulted in a stunning breakthrough in agricultural aerial imagery, AirScout® Thermal™ Imagery.
Leader in Proactive Crop Management
Today the result of his work is AirScout. And AirScout delivers what we call Proactive Crop Management. In fact, in a world of "me-too's," there's nothing else quite like it.
AirScout features patented advanced thermal imaging that measures variations in plant temperatures within a given field. This precision ag tech helps farmers see where pest and disease problems are breaking out.
You can then ground truth areas by using the AirScout App or the AirScout drone.
Setting New Standards of Performance
AirScout represents the most significant advance in precision farming. It puts diagnostic and prescription writing tools directly into the hands of the farmer and agronomist.
With advance warning of emerging crop problems, weeks ahead, and not days such as with NDVI, we can reduce intervention input costs and maximize yields.
That's the value of AirScout, The Proactive Crop Management Tool.
From Reactive to Proactive Crop Management
AirScout helps producers shift from reactive crop management mode to proactive crop management, where you solve problems when they first appear – before real damage is done.